Bathroom and Laundry Renovations Perth
Millband & Sons 
Established in 1988, Millband & Sons has been at the forefront of crafting exceptional bathroom and laundry spaces in Perth, Western Australia.
Bathroom and Laundry Renovations Perth
Our legacy is built on trust, unparalleled expertise, and an unwavering commitment to delivering excellence.
Why Millband & Sons are Perth's First Choice
Decades of Experience: With over 35 years in the industry, our expertise stands unmatched. We've honed our craft to perfection, ensuring every project is a masterpiece.
Customised Solutions: Recognising the uniqueness of every home and family, we provide tailored solutions that align with your specific needs and desires.
Commitment to Quality: From the fixtures we source to the tiles we lay, our work is a testament to our dedication to quality and durability.
Bathroom and Laundry Renovations Perth – Our Signature Services
At Millband & Sons, we believe in creating spaces that are both beautiful and functional. Here's a snapshot of our top-rated services:
Personalised Home Visits: We initiate our process with a visit, understanding your space, and aligning with your vision.
Transparent Quotations: After our assessment, we provide a detailed written quote, ensuring clarity and transparency.
Supply of Elite Fixtures: We offer a range of fixtures, ensuring you get the best in quality and design.
Efficient Demolition: Our team ensures a clean and efficient demolition, prioritising the safety of your home.
Expert Tile Preparation: We prep your walls to perfection, ensuring a flawless finish post-tiling.
Waterproofing Excellence: Our top-notch waterproofing techniques ensure longevity and protection.
Flawless Installation: Every fixture, from vanities to lighting, is installed with precision and care.
Precision in Tiling: Our tiling experts ensure a seamless and elegant finish, enhancing the beauty of your space.
Bathroom and Laundry Renovations Perth
Transform Your Spaces with Millband & Sons
Envision a bathroom and laundry space that's a true reflection of your style and preferences.
With Millband & Sons, this vision becomes a reality.
Bathroom and Laundry Renovations Perth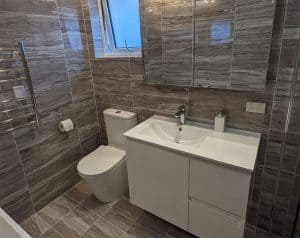 Looking for a complete Bathroom and Laundry renovations in Perth?
Claire and Paul and their boys did a great job in super fast time (a week earlier than advised) with minimal mess - we did not need to manage any of the subbies, thank you for transforming our laundry, hallway and bathroom. Odelia and Andre
Paul and his family team are hands down the best renovators! We renovated our very outdated, pink, bathroom with these guys a while ago and we loved their work so much, we had to ask them back to renovate our laundry and very yellow en-suite. Paul works with his wife and sons and they are such an effective and reliable team. They always had our vision in mind as well as help if we were stuck for ideas. They are extremely well trained and care about the work they do. They are well connected so getting something done or ordering items was a breeze. If we wanted something different, like a tile change in a niche for example, they were quick to oblige and made us feel like it wasn't a bother to alter anything. They reassured us throughout the whole process and they were extremely quick. We had our house back within 8 days of them starting the work, unlike other companies who generally take weeks or months. They also were very thoughtful and made an effort to ensure the floors were clean after each day. Being very responsive to any questions we had prior to, during and at the completion of the work was important to us as my husband and I are always super busy with work, and they nailed this! This little family loves to banter and they are great fun to have in the house. We can't recommend them enough!
Paul and Claire gave me an amazing new bathroom, I am extremely happy with it. They asked me exactly what I wanted, and made sure that they got my ideas from paper to the finished product, keeping me updated every step of the way. Paul and his sons came to work every day until the project was finished - no waiting or wasted days. Claire handled the admin and paperwork in a very efficient and professional manner. I would recommend Millband & Sons to anyone renovating a bathroom. Their service was professional and friendly, and they went to every effort to make sure that I was happy with the result. Thank you for a job very well done. Natalie
Claire, Paul and their 2 sons were lovely to deal with throughout our laundry renovation process. Claire was amazing with her regular communication regarding selections of materials and scheduling. Paul and his sons did a very prompt and efficient laundry renovation, complete demolition and installation within 5 days including a full spot on cleanup after! Their attention to detail shows the pride they take in their work. We are more then pleased with the result and would definitely use them again. Highly highly recommended!
Paul and both his sons Danny and Charlie did a fantastic job. From the onset it was great pleasure discussing our quote with this family run business. Claire was so courteous. We found that they were methodical, treated our house with respect, cleaned up after themselves everyday and were such hard workers. Their attention to the small things means that we ended up with a new bathroom and toilet area that we are ALL in love with. I Highly recommend this business for your bathroom needs and will certainly be using them again. Thankyou so much.
Paul completely transformed our bathroom from a tired pink 80's to modern oasis. Highly recommend!
Thank you so much Paul and Claire for a professional and friendly service!
Very good workers, clean and tidy, very obliging, nothing too much trouble, would recommend.